Skip to Content
Seamless Dental Bridges in White Marsh, MD
We can lose our teeth for a number of reasons, whether it's through traumatic injury, medical extraction, illness, or something else. However, missing teeth can complicate more areas of our lives than you'd expect. Self-confidence, diet, and even speech can be greatly affected by the space left behind. While dentures are often the solution for more extensive situations, dental bridges are exactly what they sound like—they bridge the gap that's been created by the tooth loss.
White Marsh Dental Group has been providing seamless, natural-feeling dental bridges to the Baltimore County area for more than 10 years. Our compassionate staff makes it a point to educate, advise, and carry out the procedure in a way that leaves you feeling safe, informed, and in capable hands.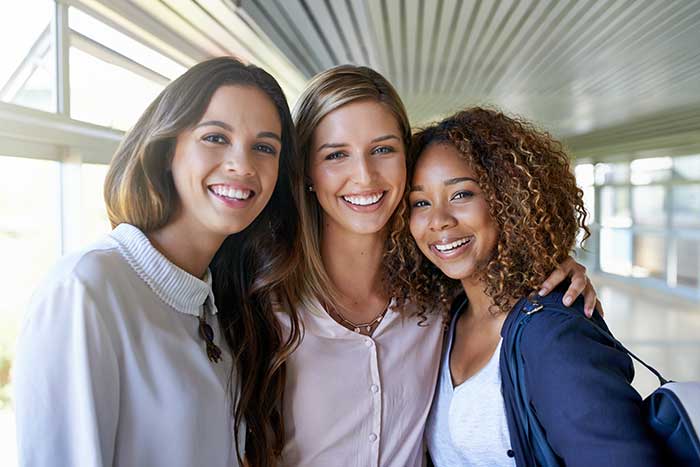 Why Dental Bridges?
Dental bridges are a great option if you've experienced the loss of a few teeth, but not enough to warrant a full set of dentures. Our dental professionals at White Marsh Dental Group will sit down with you for a free consultation, in which we'll assess the current condition of your teeth and whether dental bridges are right for you, drawing up a custom treatment and procedure plan custom-tailored to your needs. Should you and your dentist come to the conclusion that you're an ideal candidate for the procedure, you can look forward to a number of benefits.
Restored ability to eat, drink, and speak properly: Filling in the gap between your teeth restores proper function that can be heavily affected by large gaps between your teeth.
Boosted self-confidence: Missing teeth can cause you to feel embarrassed around others. Bridges restore your appearance, having a positive impact on your confidence and relationships.
Protection for existing teeth: Bridges also prevent existing teeth from crowding empty space.
Restored natural smile: With gaps repaired, you'll be flashing a smile that's always been yours.
What to Expect from the Procedure
During your consultation, your dentist will discuss the available materials and types of dental bridges that would work best for your particular needs. You'll then schedule an initial preparation session, in which we'll perform any necessary recontouring, take impressions of your teeth, and construct a temporary bridge to protect the prepared teeth and exposed gums until the permanent bridge is manufactured and ready to go. We'll check it for fit and request any potential adjustments that may be necessary before it's permanently attached. Be aware that it may take more than one appointment and set of adjustments to ensure the bridge fits properly and doesn't present any risk of irritation or damage. With proper care and maintenance, your new dental bridge should provide anywhere from five to 15 years of happy smiles.
Schedule Your Free Consultation Today!