Skip to Content
Smile with Quality Dentures in White Marsh, MD
Whether through injury, illness, or simple aging, tooth loss is a common occurrence. Many people may not realize how strong a role our teeth play in many aspects of our lives. The truth is, when you lose teeth, it can impact everything from your diet and your speech, to your confidence. White Marsh Dental Group offers quality denture services as an option to restore your teeth to full functionality, and enable you to flash your biggest smile with no reservations.
With locations in White Marsh and Nottingham, White Marsh Dental Group has been providing compassionate, professional dentistry to patients all across Baltimore County. Our team will work closely with you to ensure your dentures fit properly and provide you with the confidence and function that you deserve.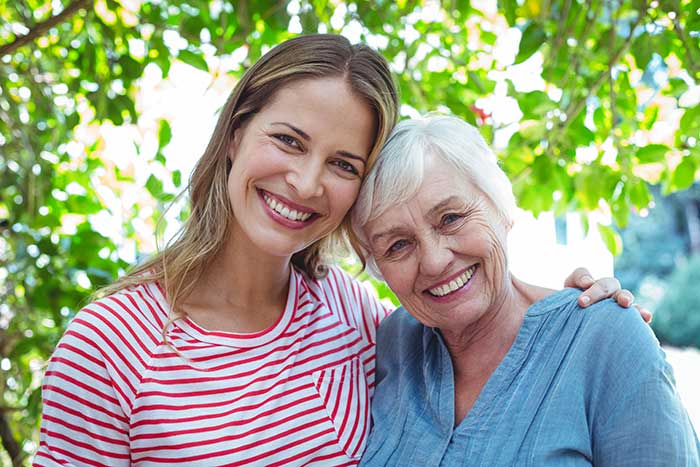 The Benefits of Dentures
Dentures are a non-invasive method to replace multiple missing teeth, providing both physical and psychological benefits.
Restored function: Because they work just like natural teeth, dentures allow you to eat, drink, and speak as if they were your original teeth.
Removal of dietary restrictions: Missing teeth may restrict what foods you can and cannot eat; quality dentures will allow you eat a larger variety of solid foods once again.
Improved speech: Your teeth play an important role in your speech, and missing teeth can affect pronunciation. By filling in the gaps, dentures allow for resumed regular speaking.
Restored confidence: Dentures are a great way to give back your sense of self-confidence and reduce embarrassment in your appearance, fostering positive effects on personal and professional relationships.
If you feel that dentures may be right for you, give White Marsh Dental Group a call today to schedule a comprehensive consultation. Our knowledgeable dental professionals will sit down with you to assess your needs and answer any questions you may have. Should you decide to move forward, our team will get you properly fitted with a set of dentures made to mimic the shape, size, and color of your existing teeth for a natural smile that's always been uniquely yours.
Caring for Your Dentures
Once you have your custom set of dentures from White Marsh Dental Group, there are a few things you'll want to keep in mind to extend the lifespan of your new teeth and reduce the risk of injury or damage. Be sure to brush them at least once a day as you would your natural teeth to remove food particles and plaque buildup. When not in use – such as when you're sleeping – you'll want to store your dentures in a safe location, submerged in water to help maintain their shape. Additionally, you'll want to pay careful attention to the products you use, should you require adhesives to secure your dentures in place. With proper care, your new set of teeth from White Marsh Dental Group should provide anywhere from five to ten years of renewed function and healthy smiles.
Schedule Your Free Consultation Today!